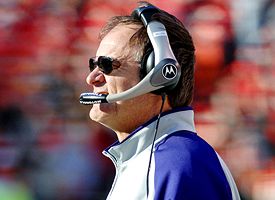 It's time for a change in Baltimore, and the Ravens have shot the first shocker of the offseason, as head coach Brian Billick was fired on Monday after a 5-11 season. Billick was fired after the team failed to follow up on a 13-3 season, and in fact took huge steps backwards this past year which included a franchise record nine-game losing streak which was finally snapped in a meaningless game Sunday vs the Steelers at home. Billick had been saying for weeks that he felt he would be back, but in the end, the fact the team was going nowhere and he was not getting anything out of his players had to play a part in him being canned.
"This is the toughest decision I've ever had to make," owner Steven Bisciotti said. Billick went 85-67 in nine seasons with the Ravens, including winning the Super Bowl back in 2001. "I'm not saying I agree with it," kicker Matt Stover said to the AP, "but sometimes things have to change." This is a good move for the Ravens, as the players in Baltimore have obviously moved on and tuned out Billick, who was hired as the teams second head coach back in January of 1999.
"I am where every other owner in the NFL has been before, it's for the most part a very difficult decision. We came to the conclusion it was in our best interest and the Ravens best interest," Bisciotti said. The Ravens were hit hard with the injury bug as well this season, losing big time players like Steve McNair, Chris McCallister, Todd Heap, Trevor Pryce, Samari Rolle and others. This is a move in the right direction for a team that simply needs to get younger, and get a new voice. Vote of confidence or not.