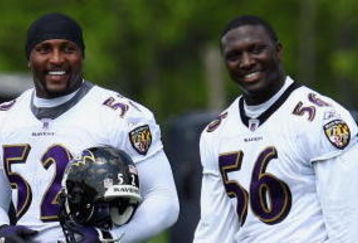 A nice piece in the form of a Q & A session between Baltimore Ravens linebacker Tavares Gooden and Edward Lee of the Baltimore Sun. I think this interview dispels the notion that NFL football players are narcissistic jerks. Here is an excerpt from the session:
Question: What's your assessment of your play in your first season as a full-time starter at inside linebacker?
Answer: I didn't really know what to expect and how it was going to play out. I was given an opportunity, and I'm just trying to take advantage of every moment. I've been trying to play well after Brendon [Ayanbadejo] went down [with a torn left quadriceps tendon Oct. 4] and trying to get better in every aspect of the game. I'm working hard with my coaches and doing extra film study so that I can become the linebacker I want to be.
Q: When Bart Scott left after last season, you were quickly anointed as his successor. Was that a lot of pressure for you?
A: When Bart was here, he taught me a lot of stuff, so there wasn't really a lot of pressure. I just couldn't wait to get some game time. That's what you look for as a kid. You want to be the guy playing out there with the greats like Ray [Lewis] and playing against guys like Brett Favre and Adrian [Peterson]. That's what you want, just that opportunity to go out and play. It wasn't about pressure, but more about, "Let me see how I do against a different team and different players."
To read the interview in its entirety, please click here.