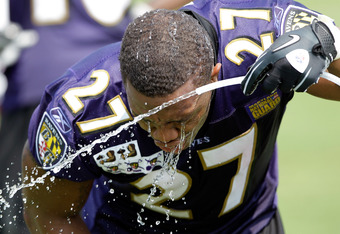 A couple of quick notes out of Ravens camp.
First, a source has indicated that Center Casey Rabach has failed his physical and it was due to his shoulder that he recently had surgery to repair. That means that the Ravens are back in the hunt for a center since Matt Birk will be out for several weeks with knee surgery. Birk hopes to be ready for the Steelers in Week One. In the meantime Baltimore will take a look at Olin Kreutz (Bears), and Shaun O'Hara (Giants) among several others.
 Marc Bulger's retirement announcement this morning didn't seem to phase Ravens management. They seem to be in no rush to sign a vet backup and  they want to give Sixth Round draft choice Tyrod Taylor a long look. I'll admit that the list of backup signal callers isn't exciting and maybe that's why the team appears to be in no rush to grab one of these guys.
Lastly Defensive Back Lardarius Webb has already been named Punt Returner #1 by Special Teams coach Jerry Rosburg. Webb took a strong hold of the job last season from Tom Zbikowski who was banged up with various injuries. I like the move since Webb does have explosive speed.