I wanted to wait on thee until after the Ravens season was finally over. Now with the heartbreak of the AFC Championship loss fading a bit now seemed like a good time to reflect on another great season for the purple and black.
All members of the staff took time to consider the following categories and in case of ties I'll list both winners. As usual please leave your comments below.
MOST VALUABLE PLAYER: RAY RICE
Unanimous decision among the staff. The offense runs through him and why not when he is threat to break a long run at any time as well as turn a short screen into a big gain. He lead the NFL in total yards from scrimmage and became a solid red zone option.
OFFENSIVE PLAYER OF THE YEAR: RAY RICE
When Rice got the ball in his hands enough the Ravens often came out on top, that's no coincidence.
DEFENSIVE PLAYER OF THE YEAR: TERRELL SUGGS
"Sizzle" was a unanimous selection for his ability to get to the Quarterback, (14 Sacks-Career High) to turn the opposition over, (7 Forced Fumbles -2 Interceptions) provide leadership, and a new university for Ravens fans to apply in the coming Fall.
ROOKIE OF THE YEAR: TORREY SMITH
Gene Winner was behind the 5th round pick DE, Pernell McPhee to pick up the honor. He had 6 sacks and was a solid contributor in the line rotation. But Torrey Smith finally became that vertical deep threat that the Ravens have lacked for so many years. After his breakout three touchdown game against St.Louis he became an important cog in the Ravens offensive machine.
BEST FREE AGENT PICKUP: VONTA LEACH
There were several viable candidates for this award which only meant that Ozzie and company did a very good job finding pieces to build a Division winning team. Bryant McKinnie, Ricky Williams, Andre Gurode and Bernard Pollard all made their presence known. The bruising Leach signaled at least somewhat of a return to the Ravens rushing roots as he opened up holes for Rice and Williams.
WORST FREE AGENT PICKUP: CHRIS CARR / MARK LEVOIR
Sorry but Lee Evans is not available for this award as he was acquired through trade. Otherwise he'd have it locked up. Chris Carr battled injuries almost all season and the Secondary managed anyhow as Lardarius Webb and Cary Williams both had very good seasons. Levior was quickly released after only a few weeks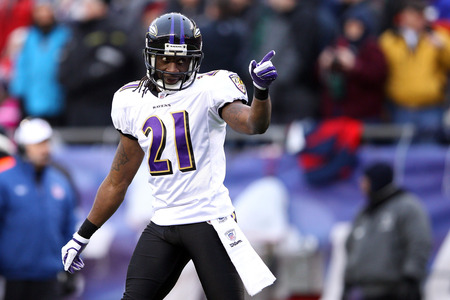 COMEBACK PLAYER OF THE YEAR: PAUL KRUGER / LARDARIUS WEBB
It took Kruger a few seasons but he finally seems to have found a role as a pass rusher in the Ravens defense. Webb arrived in 2011 and his three Post-Season Interceptions showed the national audience that he's a bona fide starter in the NFL.
MOST IMPROVED PLAYER OF THE YEAR: JAMEEL MCCLAIN / TERRENCE CODY / CARY WILLIAMS
There were too many players that could have gotten this one. McClain has shown steady improvement over the past several years and won the Inside Linebacker spot next to Ray Lewis. Terrence Cody still needs to show improvement but he's stepped up well enough as the starter in his second season. Cary Williams went from the practice squad to the starting lineup with a mix of athletic ability and a nose for the ball.