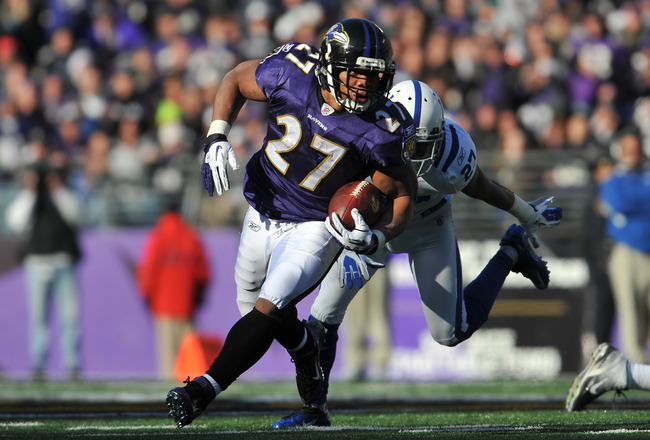 The Ravens completed their 2011 season on a down note due to the nature of their loss to the New England Patriots in the AFC Championship but this was another excellent season under Head Coach John Harbaugh. The team finished 12-4 and won the AFC North and also secured a Home playoff game, both of which were first under Harbaugh.
So how much do you really have to change if you were only seconds away from heading to the Super Bowl?
Some of that change is out of their hands, with free agency looming as teams are rarely the same from season to season due to the salary cap. But what minor moves or adjustments can be made to this team aside from drilling fundamentals until hands and legs are sore? Matt Vensel of the Baltimore Sun has decided to examine this question in a three part series where he looks at all three phases of the team and gives his suggestions.
I'll use his article as a basis of this post and give my own reactions and suggestions.
1. Allow Flacco and his receivers to grow.
As much as it pained most fans the time had come to let Derrick Mason and Todd Heap go. The receiving corps needed to get faster and get more big play ability on the outside and the 2011 edition had both of those abilities. However, when he lose two of the most reliable sets of hands in team history you are bound to see some drop-off (pun intended) in your reception totals.
During the State of the Ravens address Ozzie Newsome discussed adding another Receiver as a priority in the off-season. I wouldn't get too excited about the Ravens adding a big name like Reggie Wayne or Vincent Jackson though. At least not unless the team frees up some cap space. Instead I agree with Vensel that the team should focus on developing Laquan Williams and Tandon Doss as potential slot targets. Otherwise the Ravens may add a veteran but not until late in the period around when players can be obtained at a more cap friendly price.
Doss appeared in only five games in 2011 and I think he was more a victim of the numbers game and not any perceived limitations. He had a strong pre-season with many, including myself, thinking that he had outplayed first rounder Torrey Smith.  Smith, of course had a huge breakout game in Week three against the Rams and developed into the consistent deep threat that the Ravens have lacked for years. I wonder what Doss could do if given the opportunity.
One thing that is a constant among the top teams and offenses in the league is continuity and stability. The quarterback and his receivers have been together for several seasons to get their timing down to a science. Joe Flacco's most experienced target was second year Raven Anquan Boldin.
I'd expect Flacco in his fifth season to be even better as he becomes more acclimated with his targets. Dennis Pitta had become a third down favorite due to his solid hands and crisp routes. Ed Dickson is more physically gifted but needs to develop more focus in traffic. I'd imagine both are a big part of the plans for next season.
2. Upgrade the offensive line.
In just a few seasons what was once a strength is now in serious transition.
Left Guard Ben Grubbs most likely won't be back next season due to cap restraints and a need to extend both Ray Rice and Joe Flacco. Left Tackle Bryant McKinnie proved to be a solid pickup as he didn't miss a snap all year but he does turn 33. Matt Birk is pondering retirement but if he wants to return would need to be re-signed anyway. The right side appears more stable with Marshal Yanda getting his first All-Pro nod and Michael Oher seemingly settled at Right Tackle.
So where do the Ravens start with rebuilding this unit? I'd like to see the Ravens draft a player in the First round – perhaps Center Peter Konz out of Wisconsin. He's a powerful bruising type player and that's what Baltimore needs. This group had an uneven season and they got pushed around a bit too much in the playoffs. Establishing a physical line is one element that will help clear up Red Zone concerns as well.
Jah Reid, who saw limited action in Jumbo packages could be converted to a Guard. Andre Gurode was a valuable swing man to have this past season as he filled in capably for the injured Grubbs and was insurance for Birk. Might the Ravens think about re-signing the former Cowboy? As Newsome says, "Right player, right price". Otherwise the Ravens will need to dip into Free Agency to fill their needs.

3. Keep walking the tight rope.
The key to the Ravens success on offense is balance. Even though the percentages skew more to the pass than the run (56% pass – 44% run) the Ravens best philosophy due to personnel is one of even ball distribution.
Ray Rice needs his touches, be it as a result of a hand-off or a screen pass. He just needs the ball. Of course the Ravens have enough firepower available that if he is taken away (see Patriots game) they have plenty of options through the air.
I'm very interested to see how Joe Flacco responds in his fifth season. It's a contract year and while his own franchise seems to have faith in him there will still be external questions about his abilities. Will he place any extra pressure on himself to succeed?
I also think that it will be difficult to predict just how much money will be required to extend his contract. There are several bad contracts out there for players like Matt Cassell, Kevin Kolb, and Ryan Fitzpatrick who all received big money and don't have the near the resume Flacco does.
The last tweak needs to come from Cam Cameron. Since he is being brought back he needs to trust his signal caller more. Even though the team became Pass-First three seasons ago I would still describe his offense as "conservative". Many of the called throws are to the sidelines and comebacks. The middle of the field needs to be used more and the routes could use some spicing up with new generation ideas (rubs, stacks, etc) to get players free in space.
In order for this offense to take the next step Cameron must adapt.