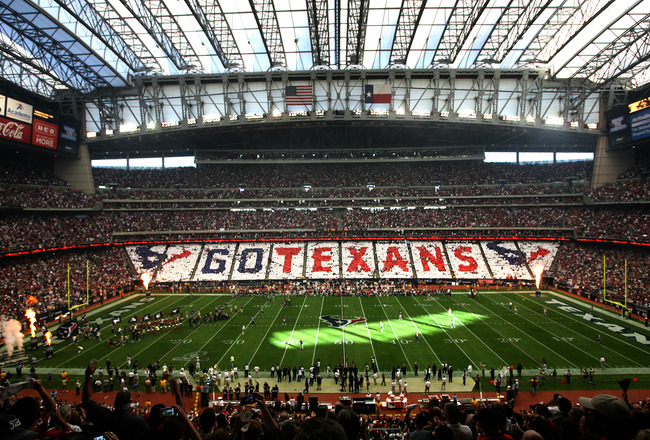 Power Rankings: Week Five
There was football on this weekend? With all of the hoopla surrounding the Orioles it almost seemed like this was a league wide bye week. Let's take a look and see how teams fared after 5 contests in the books. As always if you think you can do better; leave your own rankings in the comments below.
1. Houston Texans (5-0).  If Brian Cushing is lost for the season, Houston's run could be cut short. His absence would be devastating.
2. Atlanta Falcons (5-0). The Falcons squeak one out against Washington to keep pace with the Texans.
3. San Francisco 49ers (4-1). The 49ers destroyed the Bills. Absolutely destroyed.
4. Chicago Bears (4-1). Bears continue to win but Cutler is still a douche. I think I'm going to keep this as the recurring theme. The Bears defense has six touchdowns. Incredible.
5. Baltimore Ravens (4-1). Ravens look shaky at best in Arrowhead. Thankfully the Chiefs are completely inept.
6. Minnesota Vikings (4-1). The Vikings could be the surprise feel good story of the year if this keeps up.
7. Arizona Cardinals (4-1). A tough loss for the Cardinals. A great defense can only do so much.
8. Cincinnati Bengals (3-2). The Bengals hot and cold streak continues, but a win is a win and they keep pace with the Steelers in the tight AFC North.
9. San Diego Chargers (3-2). Chargers get bumped off by the Saints during an emotional game celebrating Drew Brees.
10. Philadelphia Eagles (3-2). Eagles almost manage to knock off the Steelers. Shame.
11. New England Patriots (3-2).  The Pats have won the last three contests against the Broncos.
12. New York Giants (3-2). The Giants get back in the win column. Roller Coaster ride continues.
13. Seattle Seahawks (3-2).  Shockingly the Seahawks have the best passing defense in the league. Savvy decision making from usually clueless Pete Carroll has his Hawks drawing talent from the unlikeliest of places.
14. St. Louis Rams (3-2). The Rams have some of the right pieces in place, as evidenced by their win Sunday, but the picture isn't quite complete.
15. Pittsburgh Steelers (2-2). Steelers crawl back even with a squeaked out win over Philly. The loss of Polamalu could be big.
16. Indianapolis Colts (2-2).  Legends are founded upon games like the one we had on Sunday. Andrew Luck was masterful in the come from behind win.
17. Dallas Cowboys (2-2). Cowboys come off the bye week with an important road game in Baltimore.
18. Green Bay Packers (2-3). That shaky Green Bay defense returns to form in the loss against Indy.  
19. Denver Broncos (2-3). The Broncos can't find a way to solve the Patriots.
20. Washington Redskins (2-3). Heartbreaking (and head breaking) loss for the Skins. The DC faithful are pulling for RGIII's speedy recovery. 
21. Miami Dolphins (2-3). Dolphins continue to win in the trenches, but need more consistency to be a real threat.
22. New York Jets (2-3). One touchdown in two games. That's terrible.
23. Buffalo Bills (2-3). Absolutely drubbed by the Niners. Incredible.
24. Detroit Lions (1-3). Hopefully the bye week was enough for Jim Schwartz to get his Lions back in formation.
25. Tampa Bay Buccaneers (1-3). Since starting out hot Josh Freeman has leveled off and not shown much progress.
26. Oakland Raiders (1-3). For a team in need of a win, they get no help as they travel to Atlanta.
27. New Orleans Saints (1-4). A big win gives Drew Brees an undeserved honor.
28. Carolina Panthers (1-4). The sophomore slump has hit Newton like a ton of bricks.
29. Tennessee Titans (1-4).  Titans lose Locker as they prepare to face Pittsburgh.
30. Kansas City Chiefs (1-4). Turnovers have plagued this team all season. They outplayed Baltimore and are rewarded with an L for the effort.
31. Jacksonville Jaguars (1-4). The London Jaguars stumble again.
32. Cleveland Browns (0-5). Cleveland has not won a game in the AFC North since October of 2010.