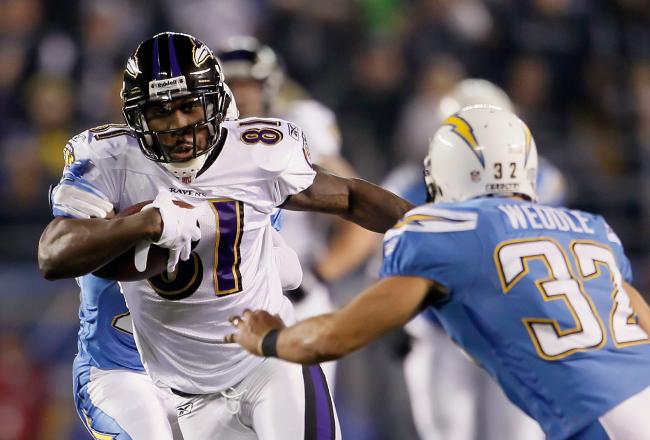 Week 11: Baltimore Ravens at San Diego Chargers
Sunday November 25, 2012 4:15 PM
Line: Ravens +1 O/U 48
Happy Thanksgiving Constant Readers, I trust everyone is sufficiently stuffed full of turkey and wine?  In the land of football, we are officially in full swing of the stretch run. Teams can start clinching playoff berths after this week and we'll have a good idea how things are going to shape up. But lest we find ourselves putting the cart before the horse, the Ravens are faced with the always dangerous, San Diego Chargers. Can they shake off the demons from last year or are they doomed to another drubbing? With that in mind, let's take a look at this week's keys to the game.
Baltimore Gridiron Report Keys to the Game
1st and Ten: Pass Rush
If there is one glaring weakness the Chargers have more than anything else, it's their offensive line. The unit has been shaky all season (at best) and are giving up sacks left and right. For the Ravens to win this game and win handily they have got to get pressure from the edges and get after Rivers. Blow up the line and get in his face. Do that and you'll not only limit the passing attack but the rushing attack as well.
Time to hunt. Get after it.
2nd and Long: Stop the Pass Rush
Last year Antwan Barnes was an absolute monster against the Ravens. The former 4th rounder made his old teammates pay big time by getting after Flacco constantly. Every single play it seemed as if he was in he backfield running unmolested after Joe and Ray. It was ugly to say the least. If the Ravens are going to stop the Chargers from staying in this game, they have got to shut down the pass rush and allow Joe to step back and deliver the ball.
3rd and Short: Double Down in the Secondary
Phillip Rivers, much like Flacco, excels with the long bomb. No other quarterback outside of Baltimore booms the ball down the field as much as he does. With that in mind it is imperative that the Ravens shore up their secondary and really focus on limiting the damage the Chargers can do through the air. Press at the line, stick with man coverage and under no circumstances let the wide outs get more than an arms length of separation. Force the Chargers to the ground game and the Ravens will emerge victorious.
4th Down: Run Over Them
Winning on the road starts with running the ball effectively. It forces the Chargers to stay honest to the rush defense and allows for a more effective play action (Joe's strongest weapon). Ray Rice had a bit of a down game against the Steelers, but the Ravens should be focusing on a heavy dose of him for this week's game plan. Get him moving well and everything else will just fall into place. If Ray can't find holes to bounce around in, then you just move to Bernard Pierce who's quietly emerging as a stout downhill runner. He's not as evasive but he's big, strong and hard to tackle.
Extra Point: Play Smart
The Ravens have got to stay mentally focused if they hope to win this game. It's the last game of a brutal road stretch an they need a victory to really separate themselves from the Steelers and move toward a first round bye. Playing smart means no stupid turnovers, no dumb penalties, and no lax execution from the game plan. Be smart, be aggressive and do what it takes to win and move on.
BGR Predictions
Jonathon Scruggs (8-2)
I went back and forth on this one for awhile. If this game were at home I'd say Ravens in a walk, but since it's on the road I'm giving the nod to the Chargers despite having lost two straight. They get the nod because Baltimore just matches up with them so poorly.
Chargers 31 – Ravens 27
Matt Jergensen (9-1)
I've hated this game since I read it on the schedule many months ago. San Diego is clearly not the same team that trounced the Ravens last year as they've left several playmakers walk to other clubs but, until Baltimore decides how it wants to attack teams on the road I don't have much faith in them. This Chargers defense is pretty solid. I also don't like the physical and mental letdown the week after Pittsburgh games.
Chargers 21 – Ravens 17
Gene Winner (9-1)
The Ravens are gaining confidence on defense and the Chargers season is just about over. The Ravens will be highly motivated after last year's loss in San Diego
Ravens 30 – Chargers 23
Ben Zinman (9-1)
The Ravens traditionally do not follow up a road win with another road win especially when traveling west. The game they play against the San Diego Chargers on Sunday will shake up the Ravens traditional format by winning consecutive road games. Phillip Rivers is very talented and has a canon for an arm but is wildly inconsistent. That is a tradition, which based on his recent past, he appears to want to be a savior. Ravens D will get to him early and often.
Ravens 31 – Chargers 21