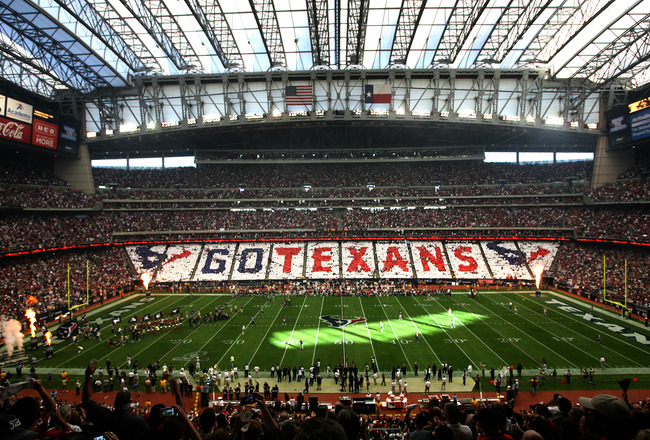 Well after an exciting weekend of upsets and mismatches, I am left the sisyphean task of trying to order the teams from trending well to trending poor. As always if you think you can do better; leave your own rankings in the comments below.
1. Houston Texans (9-1).  Houston is the best team in football, bar none.
2. Atlanta Falcons (9-1). Just keep managing to squeak by with wins.
3. Baltimore Ravens (9-2). The Ravens keep finding new and inventive ways to win games. That said they haven't really beaten anyone of note outside of New England. The next four weeks will determine if this team is for real.
4. New England Patriots (8-3).  The Patriots have the easiest remaining schedule of any contender.
5. Denver Broncos (8-3). Assuming Peyton was not concussed last week, the Broncos might be the most dangerous team in Football. Even without McGahee.
6. Chicago Bears (8-3). Outside of Houston, there's no true elite team. It's anyone's season at the three quarter mark.
7. San Francisco 49ers (8-2-1). Remember when I said the Niners would struggle without Smith? Yeah scratch that.
8. New York Giants (7-4). Giants bounce back and destroy the Packers.
9. Green Bay Packers (7-4). Inconsistency may doom them to a wild card.   
10. Indianapolis Colts (7-4).  Goodell is still praying for a Colts/Broncos matchup at Mile High.
11. Minnesota Vikings (6-5). A step back for the resurgent Vikings.
12. Cincinnati Bengals (6-5). Three straight wins for the Bengals have them set up for a playoff run.
13. Seattle Seahawks (6-5).  Heartbreaking loss on the road. Russell Wilson still showing his critics that he has what it takes.
14. Pittsburgh Steelers (6-5). Without Ben the Steelers are D.O.A. If they lose to Baltimore on Sunday their season is over.
15. Tampa Bay Buccaneers (6-5). Freeman has improved greatly since last season, but this team as a whole needs more consistency on offense.
16. Washington Redskins (5-6). They need help, but the Skins can still make a run at the division or a wild card. Tough stretch of games looms large however. 
17. Miami Dolphins (5-6). Chalk up another win for Ryan Tannehill.
18. New Orleans Saints (5-6). And just like that they cool off in a big way.
19. Dallas Cowboys (5-6). I sincerely doubt Jerry Jones will tolerate a losing season. Romo and Garrett are playing for their jobs now.
20. St. Louis Rams (4-6-1). I am beginning to wonder if even Jeff Fisher can rehab this ailing franchise.
21. Buffalo Bills (4-7). This team has far too much talent to be underperforming so badly.
22. Tennessee Titans (4-7).  Not enough playmakers on the roster to make this team a consistent threat.
23. New York Jets (4-7). When your most popular Super-Fan calls it quits, you know you're in trouble.
24. San Diego Chargers (4-7). The Chargers needed that win against Baltimore to stay alive. Too bad the Refs and Ray Rice determined otherwise.
25. Detroit Lions (4-7). The Lions are playing hard but three straight losses have them reeling.
26. Arizona Cardinals (4-7). After winning the first four games of the season, Arizona has lost seven straight.
27. Oakland Raiders (3-8). Carson's home coming to Cincy ended in disaster for his Raiders.
28. Cleveland Browns (3-8). Beating Pittsburgh had to feel absolutely cathartic after a turbulent season. 
29. Carolina Panthers (3-8). Beating the Eagles on Monday night? Awesome?
30. Philadelphia Eagles (3-8). And so ended the Eagles. Unwept, unhonored and unsung.
32. Jacksonville Jaguars (2-9). The London Jaguars limp to the finish line.
31. Kansas City Chiefs (1-10). Marginally better than the Jaguars. Marginally.