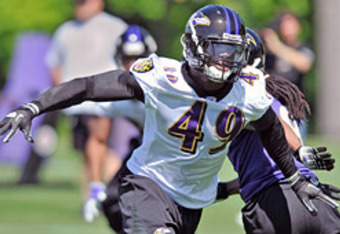 The Ravens cut linebacker Sergio Kindle from their practice squad Monday.
Kindle was the 43rd overall pick in the 2010 draft but spent his entire rookie season on the reserve/non-football injury list after fracturing his skull while falling down a flight of stairs.
He played in one game last year and one game this season.
"It was kind of mutually agreed upon between the two of us," coach John Harbaugh said of the move.
Harbaugh said he will continue to support Kindle, even though he's no longer a member of the Ravens.
"He and I have gotten real close. I feel some responsibility for him and really want to see him do well," Harbaugh said, according to the Baltimore Sun. "I really think he has a chance to be good in this league. I'll be there to support him and do whatever we can to help him. He's hoping for an opportunity somewhere where he can maybe take the next step."